July 2016 Release Notes
New Platform Features
Task File Explorer
With the latest release of RBM Connect, the way files are displayed has been revamped. The file explorer is a new feature that is available for all of the apps on the platform, which provides a new interface to view and download files.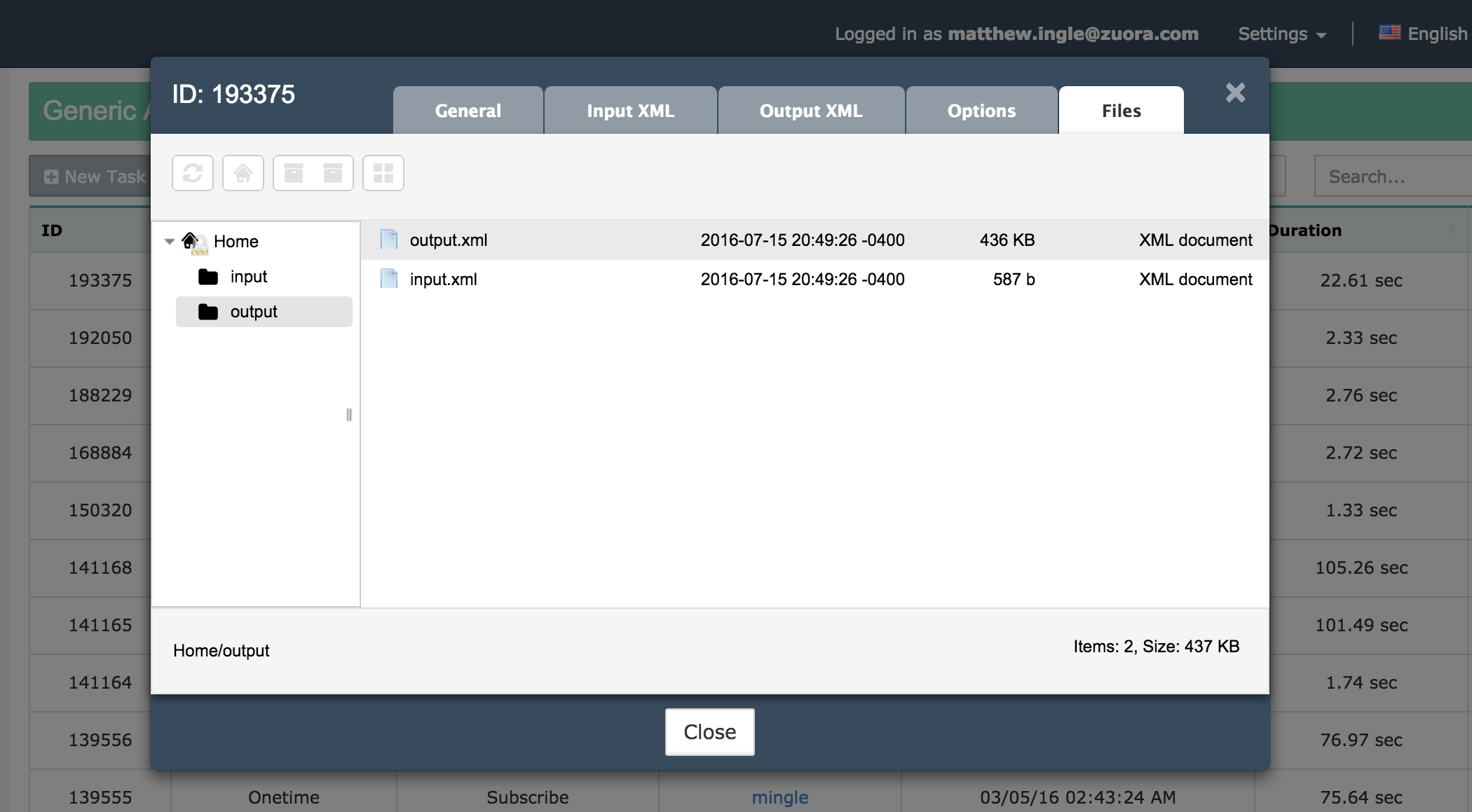 To download files from the file explorer, you must double-click or right-click and select download.
Marketplace App Listings
The Marketplace App Listings now display the app description on mouse hover.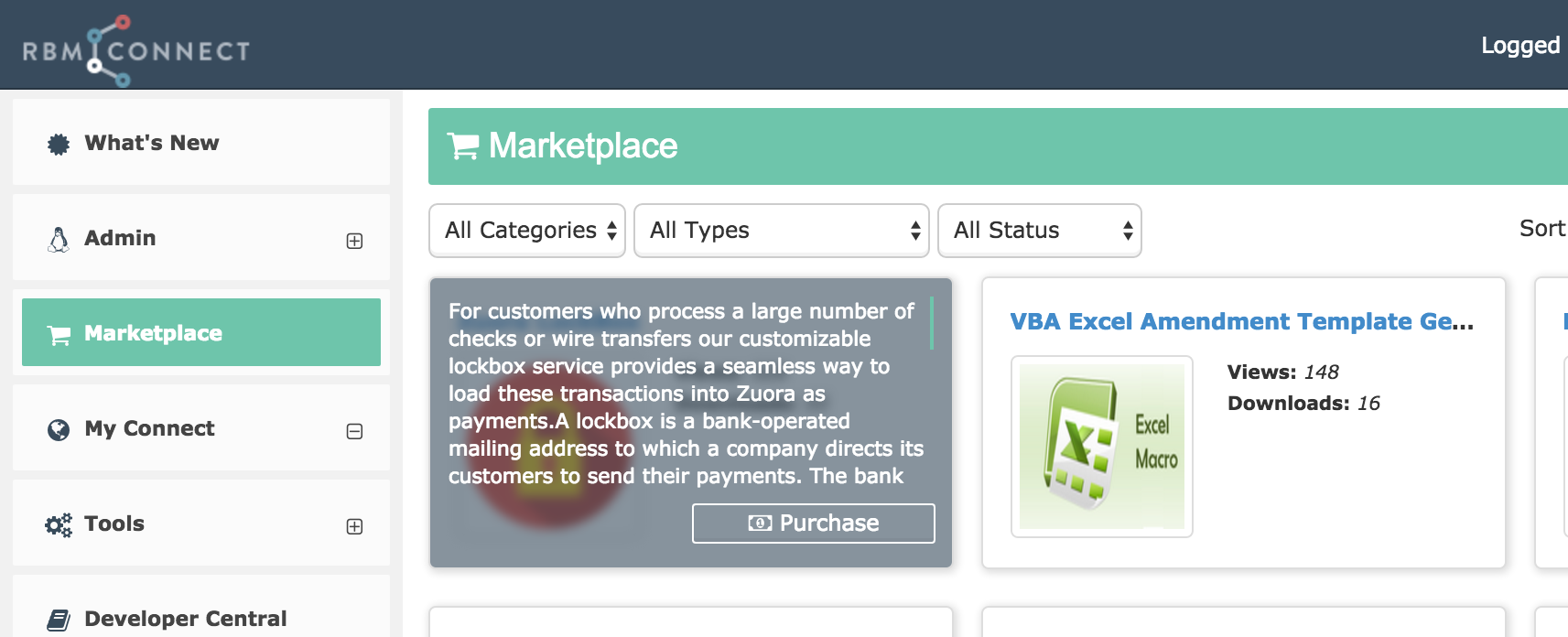 App Instances
The way app instances are displayed have been updated to show tiles of all your apps associated with a particular tenant. If you hover over an app tile with your mouse, then you can perform certain actions on it depending what type of app it is.
For example if you purchased the Invoice Numbering app, you can view your configuration, stop the app and view your custom invoice numbers by hovering your mouse over the Invoice Numbering app tile under your tenant.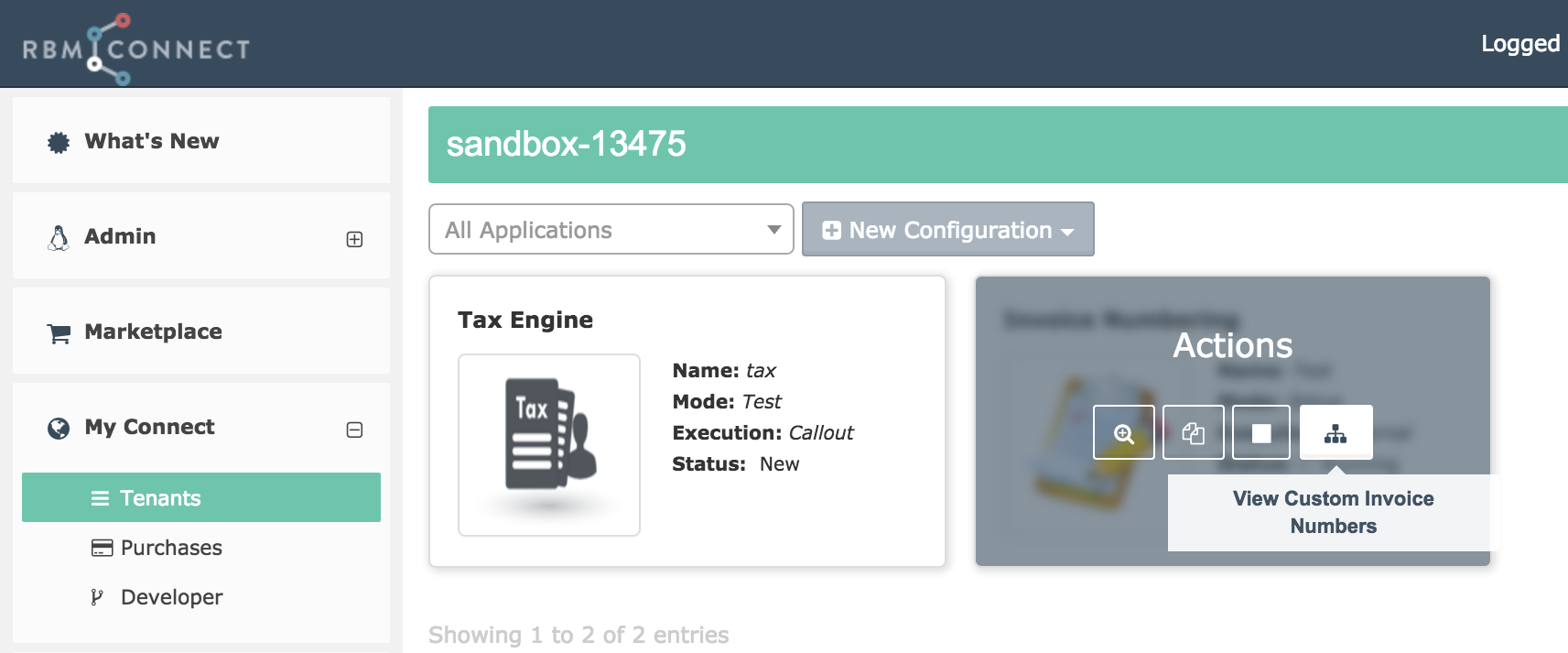 Tenant Overview
When you view your tenants under My Connect, you can view all of the users that have tools or app access for that particular tenant. This is the view where you can view all of the apps that are hooked up to the tenant by clicking on the Apps tab in the top-right corner.

For Platform App Developers
Custom UIs are now available for app developers, ping the mailing list (connect at zuora.com) for more details.

Build name added to run-time parameters for custom hosting solutions
Notable Applications / Features
Promotion Code Management Application
Previously, a user could assign a discount rate plan to a promotion code and override the discount percentage and discount amounts fields.
With this release, we've allowed users to override other important fields on the discount charges, which allow users to specify the discount duration.
The application uses only one Product Rate Plan in Zuora and allows each promotion code to have a different discount percentage and duration. Example: Code 'summer20' can map to a 20% discount for 3 months, while code 'free1' can map to 100% discount for 1 month.
Previously:
Only the discount percentage and discount amount fields were available for override
What's new (highlighted below):
Discount duration fields are now available for override (billingPeriod, upToPeriods, upToPeriodsType, endDateCondition)
The default values in the Zuora catalog are shown for user reference.

API documentation and API query search capability
Previously:
API documentation was in the format of a pdf and full use case and field descriptions did not exist
API Search -

When using the API to retrieve all promotion codes, one could not filter the results.
What's new:
Now we have a public facing API documentation page that has references and full descriptions of all objects and their properties
API docs can be found in the marketplace listing or in the application itself
https://connect.zuora.com/appstore/apps/promotion-code-management-1

API Search - One can now search by a variety of fields when using the API to retrieve promotion codes.
Amendment Loader
The Amendment Loader is now available under the RBM Connect Tools. Using the Amendment Loader, users can perform mass updates of Subscriptions by performing different types of Amendments through the Zuora API. This is done by importing a CSV file containing the necessary amendment information. Previously in order to bulk amendments users had to use the Subscription Loader, but now users can easily export their subscriptions as certain amendments (i.e. New Product or Update Product) and import the file back with the populated values.
Supported Amendment Types:
Cancellation

NewProduct

OwnerTransfer

RemoveProduct

Renewal

ResumeSubscription

SuspendSubscription

TermsAndConditions

UpdateProduct

Additional Functionality:
Support for overwriting Amendment, RatePlan, and RatePlanCharge custom fields
Support for executing AmendOptions on every amendment
Support for exporting subscription information as any type of amendment
Import header fields are not order-dependent
Import header fields can be deleted if not used
Subscription Loader
The new build of the Subscription API Loader is listed as Overdrive.
What's New:
Support for executing SubscribeOptions (ApplyCreditBalance, GenerateInvoice, ProcessPayments, InvoiceDate, InvoiceProcessingScope, InvoiceTargetDate) when generating subscriptions




Support for exporting of ProductRatePlanId and/or ProductRatePlanChargeId values




Import header fields are no longer order-dependent




Import header fields can be removed if not used




Revised header fields (See template and da

t

a dictionary for more information)



Deprecated features
Methodology Section
We will no longer have this section displayed are hiding this section from users, but if you need anything from this section then contact us and we can re-enable this section for your user.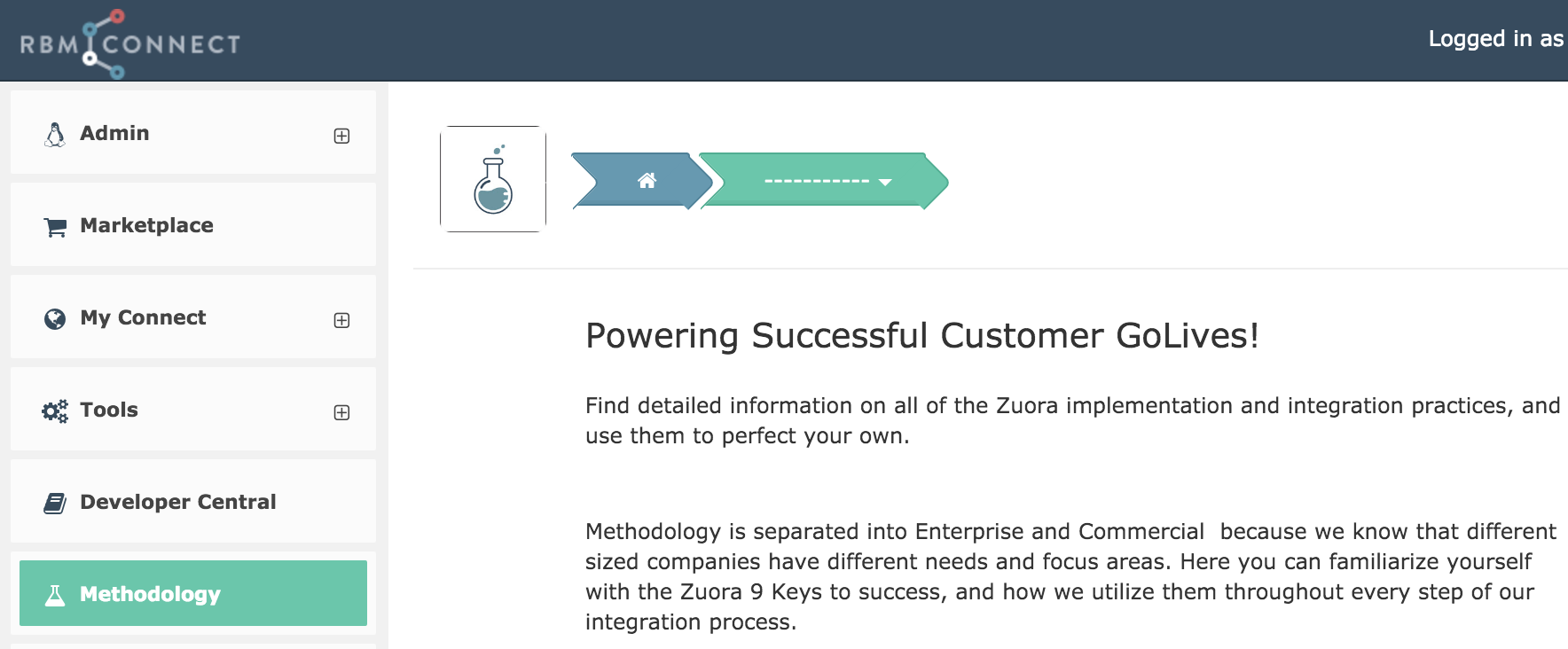 Manage button in Purchases Section
The Manage button Purchase section under My Connect will be deprecated.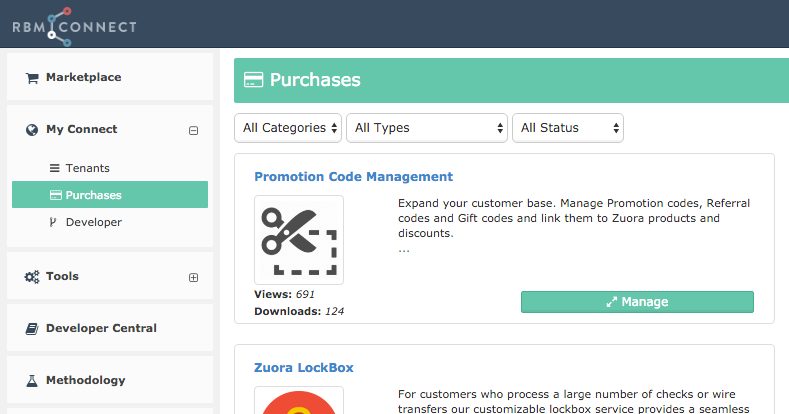 Previously, users had to come to this section to manage their purchased apps, but now users will have a new way to perform this action. In order to access a purchased app that is tied to a Zuora tenant, you must doing the following:
1.) Navigate to My Connect
2.) Click on Tenants
3.) Select the tenant that the application provisioned for
4.) Now click on the Apps tab in the top right corner
Bug Fixes
CSV Tab download moved to file browser.




Chrome SSO Extension has been fixed for sandboxes.