August 2016 Release Notes
New Platform Features
Connect is now Zuora multi-entity aware!
In preparation for Zuora's multi-entity feature launch Connect now identifies and maintains a list of entities for each connected Zuora Tenant. Applications such as Developer Tools can now use this new feature to interact with one or multiple entities. During job creation, Developer Tools users on WSDL 78 or higher can now specify an Entity to run the job against.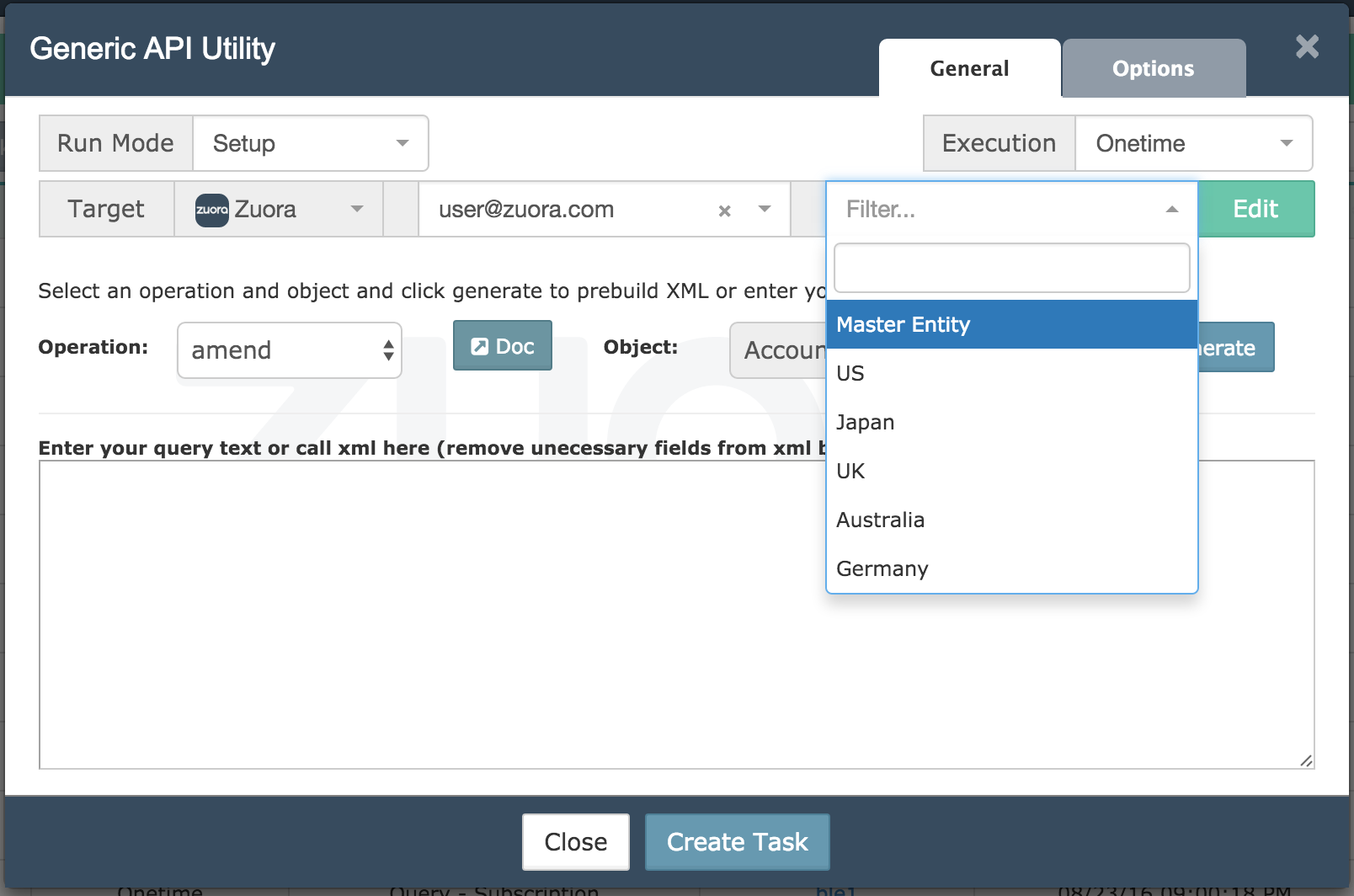 New Applications
Do you deliver physical goods like newspapers or magazines? If so one or both of these application may be perfect for you.


The application adds two new charge models to Zuora, Issue Based

Flat Fee Pricing and Per Issue Pricing. Both charge models use a user defined delivery

schedule

to compute new charges and refunds which take into account the number of issues in/left in your subscription period.

With the Issue Based Revenue Recognition app, a new issue based revenue recognition model is added to the system. Using this new model, revenue is recognized based on the user defined delivery schedule for a charge AND the user defined account periods.

For more information about this app, please check out the app listing in the marketplace.
Do your customers pay for services by purchasing credit upfront and then consume that credit overtime. This new application enables a prepaid drawdown charge model for Zuora. This charge model allows a user to purchase a "top up" product that increases their prepaid balance and then draws down on that balance as the user consumes services via One-Time, Recurring or Usage Charges. You can also control the level at which a balance for services is tracked. Options include Account Level, Subscription Level, or Charge Level. For more information about this visit the app listing in the marketplace.
---
Application Updates
Our lockbox app gets even better! We're now supporting the following bank formats for processing payments in lockbox:

Commonwealth Bank of Australia - Bill Pay




City

National Bank




Harris Bank



When a Payment Reversal or Chargeback occurs it's important to void the payment in Zuora so that the process of collections and/or termination can begin. This process typically starts with receipt of the settlement file. This file list all charges that have been settled and those charges that are being declined. The payment reconciliation app automates this process. The app currently support the following:
Vantiv Chargebacks
Vantiv Settlements
Cybersource Settlement Reports



Do your customers agree to pay a minimum each month, even if they consume less? Do you want to bill those same customers for actual consumption if they exceed their committed revenue target?




Extend your Zuora Environment with the Minimum Commitment application. This new app allows you to specify a minimum commitment threshold per account. If a customer doesn't hit this amount the extension will automatically "true-up" their invoice total to the minimum commitment. For more information about this application please check out the app listing.
We continue to improve and expand our Developer Tools app. This month includes great updates to both the product and account loaders shown below. If you have suggestions for Developer Tools updates send them our way (support@zuora.com).
Supports dynamic headers (column names can be placed in any particular order)

Supports non-windows csv format on Mac OS

Support update of any writable field with proper formatting / permissions

Export file now includes following ProductRatePlanCharge fields if supported in tenant:

BillingTiming

EndDateCondition

ListPriceBase

OverageCalculationOption

OverageUnusedUnitsCreditOption

PriceChangeOption

PriceIncreaseOption

PriceIncreasePercentage

RatingGroup

UpToPeriodsType

UsageRecordRatingOption

UseTenantDefaultForPriceChang

e

WeeklyBillCycleDay
Accounts & Contacts Loader
Supports dynamic headers (column names can be placed in any particular order)

Supports

non-windows csv format on Mac OS

Results file includes Contact information

Supports options "Debug Mode" and "Validate Only"

Support update of any writable field with proper formatting / permissions